Sputhe PosiTrac Dyna Chassis Stabilizer (Part #9100)
Sputhe introduces the PosiTrac Dyna Chassis Stabilizer, which provides lateral positioning of the drive train for all Dyna model Harley-Davidson motorcycles from 1991 to the present. PosiTrac totally eliminates lateral isolator flex that causes swing arm deflection. The result: high speed directional cornering stability is greatly improved under all conditions. Additionally, safety, comfort and tire life are all increased.
The Sputhe Positrac consists of front and rear stabilizer links and brackets to provide absolute lateral positioning of the drive train and swing arm assembly relative to the frame. The front and rear Sputhe stabilizers combined with the existing top stabilizer establish a plane that maintains precise alignment of the steering head and rear axle under all conditions.
The Sputhe Positrac Dyna Chassis Stabilizer:
Quick and easy bolt on installation.
No chassis modification required.
No loss of ground clearance.
100% made in the USA.
SPUTHE POSITRAC STABILIZER
New Chrome Top Stabilizer Link available!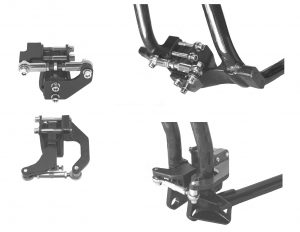 Order Online, by Phone or Email
Tel: +1 (530) 268-0887

PO BOX 2553
Grass Valley CA 95945
Sputhe name, design and related marks are trademarks of Sputhe.com
Sputhe.com ©1997-2023. All Rights Reserved.