SPUTHE POSI-NEUTRAL FINDER Part# 8390
Every rider has experienced the frustration of fumbling with the shift lever while chasing the elusive "neutral" position in the transmission. The "neutral indicator light" is an aid, but "neutral" can still be hard to find especially on rubber mount models. The "Sputhe Posi-Neutral Finder" eliminates the problem by providing a mechanical lock in the "neutral" position ensuring positive neutral engagement every time. The unit utilizes a button activated electronic solenoid to drive a pin which drops into a detent in the shift drum to find and hold "neutral". The Sputhe Posi-Neutral Finder kit can be added to existing Harley-Davidson Big Twin transmissions.
Part #8390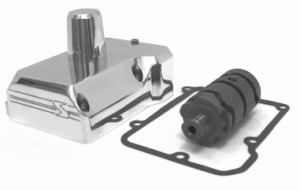 Order By Phone Or Email
Tel: +1 (530) 268-0887

PO BOX 2553
Grass Valley CA 95945
Sputhe name, design and related marks are trademarks of Sputhe.com
Sputhe.com ©1997-2019. All Rights Reserved.