| | |
| --- | --- |
| 95 cu in Engine | 104 cu in Engine |
| 4201A 3.780 Front dish top piston for 4001A | 4202A 3.780 Front dish top piston for 4003A |
| 4203A 3.780 Rear dish top piston for 4001A | 4204A 3.780 Rear dish top piston for 4003A |
| 4201B 3.780 Front flat top piston for 4001B | 4202B 3.780 Front flat top piston for 4003B |
| 4203B 3.780 Rear flat top piston for 4001B | 4204B 3.780 Rear flat top piston for 4003B |
Note: Pistons and rings may be ordered in Standard, +.005, +.010, +.020, or +.032.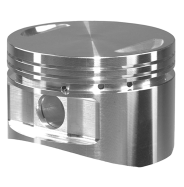 Bore
Piston Size
3.780
Standard
3.785
+.005
3.790
+.010
3.800
+.020
3.812
+.032
All pistons are sold individually, without piston wrist pins or spirolocks
(see below for part numbers)
* Piston clearance 1/1000.
REPLACEMENT PARTS
Gaskets, Seals & Base Plates
Piston Rings
4502
Complete gasket and seal set for 4001and 4003, includes: 4503X2, 4506X2,4509BX2, 4408X4, 4706X1
4310
3.785 Ring sets for two pistons,Standard and +.005
4502B
Replacement gasket and seal set for 4001and 4003, includes: 4503X2, 4506X2,4509X2, 4509BX2. 4408X8
4312
3.800 Ring sets for two pistons,+.010 and +.020
4503
Copper O Ring head gasket for 4001/4003
4313
3.815 Ring sets for two pistons, +.032
4506
Fiber/wire base gasket for 4001/4003
4508B
Cylinder dowel pin/oil return seal groove
4509
Oil seal .562 OD X .062
4509B
Oil seal .562 OD X .094
Piston Pins
4401
Piston wrist pin .792" dia. X 2.500"
4408
Spiroloc pin clip (4 per set)
Our pistons are machined from zero silicon, high nickel T7 stabilized aluminum forgings. The cam and barrel taper skirt configurations were developed by CTEM (Computer Thermal Expansion Modeling). A conventional piston grinder cannot produce these compound curves. A CNC single point diamond-contouring machine forms the skirts to a tolerance of fifty millionths of an inch. This results in a perfectly cylindrical skirt at operating temperature with optimum clearance for quietness and minimum friction. Long full width skirts provide maximum stability for a superior ring seal.
PISTON PINS
Sputhe piston pins are machined from solid billet E52100 bearing steel having a tensile strength of 300,000 psi. They are heat treated to a hardness of 54C-56C Rockwell. They are shot-peened and magnafluxed. The OD is ground to a 3-micron surface finish. The ID is radiused and ground to a wall thickness of 0.105". Sputhe piston pins are 33% lighter than the stock Harley-Davidson pin.
PISTON RINGS
Compression rings are low-tension vacuum melt "Meehanite". The face of the top ring is filled with molybdenum di-sulfide. The improved bond strength of this plasma-applied moly coating provides resistance to moly flaking. The porosity of the coating results in improved top ring lubrication. The oil ring assembly is an important element of the low-tension ring set. The use of oil ring assemblies with low tangential tension would normally result in oil passing the rings and entering the combustion chamber. However the rotary valve breather system on the Harley-Davidson (which creates a vacuum in the crankcase, assists the oil ring in controlling oil) has allowed the use of the oil ring tensions below 15 lbs.
GASKETS
A solid copper O-ring head gasket seats in a relief in the cylinder deck and has proven to be totally reliable. A high temperature oil seal in the head locating/oil return dowel seals the oil return passage between the head and cylinder.
INSTALLATION
Some heads need small crescents of weld to the head boltholes to provide a sealing surface against the "O-ring" head gasket.
On late type studs, the flange below the threads must be removed. Early engines with female studs and head bolts must be converted to the 1986 and up male studs and tube nuts.
Cylinder spigots must be bored to 4.010 dia.
With the 95" kit, it is not necessary to rebalance the crank because the piston assemblies weigh 100 grams less than stock.
The 104" kit uses 4 5/8" stroke flywheels. We recommend S&S part number 2060.
1991 and newer engines must have the stock crankcase replaced with Sputhe crankcase part #7009 or other after market crankcase.
Order By Phone Or Email
Tel: +1 (530) 268-0887

PO BOX 2553
Grass Valley CA 95945
Sputhe name, design and related marks are trademarks of Sputhe.com
Sputhe.com ©1997-2019. All Rights Reserved.