SPUTHE 60º ENGINE
The Sputhe 60º engine is quite a bit smoother than a 45º engine. It is more powerful because of the duel intakes and a lighter, more rigid valve train. It is also quite a bit stronger due to the wider 60-degree angle. There is no need for piston-to-piston relieves and the bearings are much larger.
Harley-Davidson incorporated a number of the 60º's features into its Twin Cam series engines. The Sputhe Sixty has been running since 1992. H-D uses the same crankcase venting system, the same scavenging system and the same type of lifters as the Sixty.
In the past, the Sixty has been tested in a number of configurations, single and duel carbureted, as well as fuel injected in displacements from 78 ci to 125 ci. We built a 120 cid injected alcohol engine for Danny Grotto in Australia. He has been drag racing the same engine for 11 years without failure.
*Not in production at this time.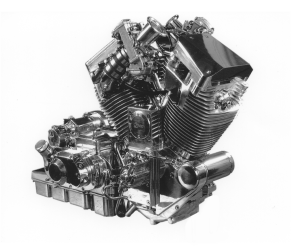 SPUTHE ENGINES
Alloy Sportster

80 cubic inches, 3.625" bore, 3.8125" stroke
1978 to 1983
Duel carb aluminum heads & aluminum cylinders
First complete aftermarket V-twin engine
First street engine to exceed 100 horsepower

EVO

104 cubic inches, 3.780" bore, 4.625" stroke
1984 to 1998
First complete aftermarket engine V-twin offered
Biggest production engine made for many years
Many features were incorporated in the H-D TC88
First street engine to exceed 120 horsepower

Spectre

100 cubic inches
3.780" bore, 4.500" stroke
3.875" bore, 4.250" stroke
4.000" bore, 4.000" stroke
1991 to 1998
First 60 degree high cam aftermarket engine
First production dual carb Big Twin
First street engine to exceed 140 horsepower
Tel: +1 (530) 268-0887

PO BOX 2553
Grass Valley CA 95945
Sputhe name, design and related marks are trademarks of Sputhe.com
Sputhe.com ©1997-2023. All Rights Reserved.