SPUTHE PRIMARY BELT DRIVE
Easyrider's Award for 'Performance Product 2005'
Sputhe has been a leading manufacturer of high performance motorcycle engines and transmissions for more than 30 years. Tying the two components together is a logical progression.
As with other Sputhe products, our primary drive system is a totally engineered assembly of matched components. After carefully studying and rigorously testing the primary drives currently available, we designed a unit that would handle today's super large displacement high torque engines without excessive width and the complexity of outboard bearings. We have substantially increased the capacity of the clutch and incorporated the latest belt technology. We are the only manufacturer to use two inboard ball bearings on our clutch basket to maintain perfect belt alignment.
Our outer belt cover is machined from a two and one half inch thick, forty-seven pound aluminum billet. The inner housing begins as a twenty-seven pound billet. The finished assembly weighs only eleven pounds or five pounds less than a stock Softail housing. This vented housing completely encloses both the inner and outer surfaces of the belt to protect the rider as well as the belt. Our unique "enclosed open center" design prevents debris from becoming trapped between the belt and the pulleys. The spans between the pulleys are essentially two box sections joined to a cylindrical section at either end and rigidly bolted to the billet inner housing. This design results in an extremely robust unit that combines simple timeless styling with extreme narrowness and lightness.
Our clutch has nine Kevlar and steel plate sets with over 200 square inches of friction surface. It is housed in a hard anodized 7075-T6 billet aluminum clutch basket. This is one of the strongest non-lockup clutches made, yet it has a light pull and smooth engagement because it uses a diaphragm spring instead of coil springs. The engine pulley hub is machined from chrome-moly bar stock. No cast or extruded engine pulleys for us. Our pulleys are machined from 7075-T6 aluminum billet for the highest possible strength to weight ratio and they are hard anodized for long life.
We have specified a 50mm wide Gates GT-2 belt, which is much stronger than the belts used by most of our competitors. We have also altered the primary drive ratio to make starting easier and increase road speed while reducing engine vibration and transmission gear loading.
The Sputhe primary drive is currently available for Evolution Softails only. You may specify either a show polished or a machined finish. We will be producing units for other models in the near future.
Comparison of a stock Harley-Davidson Softail primary drive assembly
and a Sputhe primary drive assembly
| | | |
| --- | --- | --- |
| | Harley-Davidson | Sputhe |
| Front Sprocket/Pulley | 6.0 pounds | 2.6 pounds |
| Chain/Belt | 3.3 pounds | 0.8 pounds |
| Clutch Assembly | 13.7 pounds | 12.5 pounds |
| Starter Pinion Assembly | 0.9 pounds | 0.4 pounds |
| Inner and Outer Housings | 16.1 pounds | 10.9 pounds |
| Chain Tensioner | 1.7 pounds | 0.0 pounds |
| Total | 41.7 pounds | 27.2 pounds |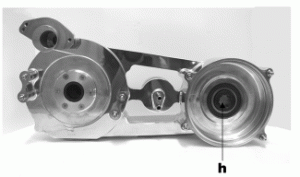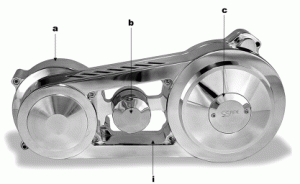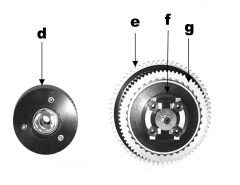 Part #8800

| | |
| --- | --- |
| a – | Zero and 1 ½" offset (inquire about other options) |
| b – | Optional oil filter |
| c – | Use any cone motor ignition cover |
| d – | Exclusive double bearing "Cush Drive Front Pulley" |
| e – | Hard anodized 7075-T6 billet clutch basket |
| f – | Easy pull diaphragm clutch |
| g – | 200 square inches of Kevlar clutch surface |
| h – | Inboard support bearing on offset models |
| i – | Inner belt run is totally enclosed |
Order By Phone Or Email
Tel: +1 (530) 268-0887

PO BOX 2553
Grass Valley CA 95945
Sputhe name, design and related marks are trademarks of Sputhe.com
Sputhe.com ©1997-2023. All Rights Reserved.