Part #8000T
Close or Wide Ratio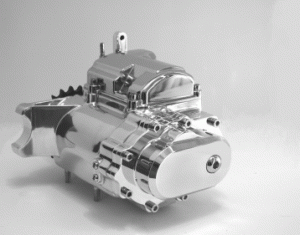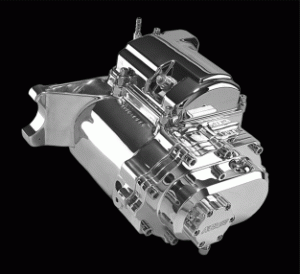 Shown with polished case, cable clutch release
Shown with hydraulic clutch release
Sputhe transmission cases allow Harley-Davidson Evolution 5-speed transmissions to be adapted to 1970* and up Big Twins with non-rubber mount 4-speed frames. They clear all stock exhaust pipes, oil tanks, battery boxes and brake linkages, etc.
Harley's EVO 5-speed has better gear ratios and it is stronger than a 4-speed. It shifts faster and smoother and cuts 1/2 second off the quarter mile time. Every gear turns on needle bearings, even the shift drum turns on needle bearings. Materials are better and tolerances are much tighter than in the four speed.
The ratios allow you much more freedom to tailor your bike to your particular riding style. It also makes your bike more versatile. You can have a higher high, a lower low and closer ratio gearing, all at the same time.
This is the one piece of speed equipment that will increase acceleration, improve fuel mileage and increase engine life. It makes for more pleasant riding in traffic and more comfortable highway cruising all at the same time. If replacement parts are ever needed, they are readily available from Sputhe or your Harley-Davidson dealer.
*Can be used on 1955 – 1969 models with a modified primary drive.
E-Mail: sputhe@hotmail.com
Tel: (530) 268-0887
P.O. Box 2553
Grass Valley, CA 95949
Sputhe name, design and related marks are trademarks of Sputhe Industries.
Sputhe Industries. ©1997-2021. All Rights Reserved.