SPUTHE 5-SPEED KICKER TRANSMISSION, COMPLETE
Sputhe originated the 5-speed transmission for 4-speed frames and the only kick-starter with a one-piece main shaft. Sputhe has the only after market transmissions that use only American-made parts. Sputhe manufactures their cases, lids, trap doors, release covers, billet pillow blocks, snap rings, hardened thrust washers, springs and shifter ratchet assembly. All Sputhe transmissions feature American-made gears and shafts.
Sputhe transmissions are available with electronic speedometer pickup, billet trap door, Karata pulley and either cable or hydraulic billet clutch release assemblies.
Kick-starter and end cover sold separately.
Hydraulic cover sold separately.
Electronic speedometer pick-up sold separately.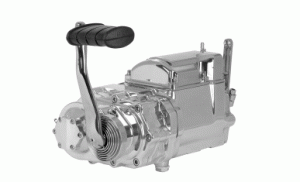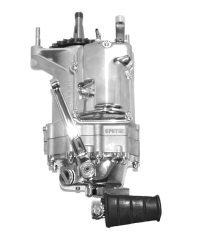 Hydraulic clutch release Cable clutch release
SPUTHE 5-SPEED for 4-SPEED FRAME
WITH KICK START TRANSMISSION CONVERSION KIT
The Sputhe 5-speed Kick Starter Assembly adapts a 5-speed transmission from '80 to late '84 to accept 4-speed kicker units. The assembly kit features a one-piece main shaft and heavy-duty access door for strength and reliability. Includes door with bearing and snap rings, main shaft with spacer and nut, clutch rod center and mounting bolts. Finish, "as cast". All other parts required are stock H-D.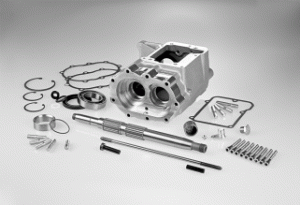 Part #8500B
E-Mail: sputhe@hotmail.com
Tel: (530) 268-0887
P.O. Box 2553
Grass Valley, CA 95949
Sputhe name, design and related marks are trademarks of Sputhe Industries
Sputhe Industries. ©1997-2021. All Rights Reserved.