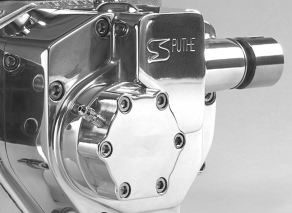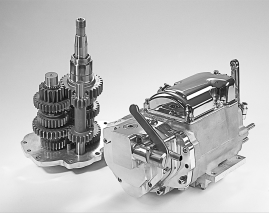 SPUTHE 5 FORWARD SPEEDS AND REVERSE
Part #8000TR
Owners of 1970 to 1984 Harley-Davidson FL's and FX's can replace their stock 4-speed transmission, with Sputhe's new 5-speed plus reverse transmission. The reverse gear transmission is the latest development in Sputhe's long line of special application transmissions.
The internals of the 5 forward speeds are borrowed directly from Harley-Davidson's Evolution 5-speed transmission including the deep 3.24 to 1 first gear. Shifting of the forward gears is accomplished using the normal foot lever.
There is a third shaft located inside a specially designed Sputhe transmission case. This reverse shaft has two integral gears that engage first gear on the lay shaft and fifth gear on the main-shaft resulting in a low reverse gear ratio.
A separate hand operated lever engages reverse, which is on the right side of the transmission. An excellent feature of the shifting mechanism is Sputhe's patented* compound lock out system. Unless the transmission is in neutral, reverse is locked out. Once reverse is engaged, the forward gears are locked out. Furthermore the reverse lever has a safety latch preventing accidental movement of the reverse lever in either the engaged or disengaged position.
Installation is quite straightforward. The only modification required to install the reverse gear transmission is to remove a bracket on the right frame rail. The transmission comes completely assembled and includes a billet mounting plate and clutch cable.
Like all Sputhe transmissions, the 5-speed plus reverse uses only top quality American made parts including Sputhe's own billet pillow blocks and patented PosiShift – which makes it impossible to over shift into a false neutral.
The case comes in an as-cast finish. The forward shift lever, top cover and all bolts are chrome plated. The bearing housing and side cover are polished billet aluminum. The reverse shifter is polished stainless steel.
*U.S. Patent 6,076,416
E-Mail: sputhe@hotmail.com
Tel: (530) 268-0887
P.O. Box 2553
Grass Valley, CA 95949
Sputhe name, design and related marks are trademarks of Sputhe Industries.
Sputhe Industries. ©1997-2013. All Rights Reserved.