REPLACEMENT TRANSMISSION,
MAINSHAFTS AND GASKETS
Part #
8114 Transmission mainshaft (4 to 5)
8114K Mainshaft (8000TK)
Transmission Gaskets
Genuine James Gaskets
| | |
| --- | --- |
| Part # | |
| 8270 | Transmission top cover gasket |
| 8279 | Bearing housing gasket |
| 8280 | Clutch release cover gasket |
| 8601 | Transmission gasket & seal kit |
SPUTHE IMPROVED SPROCKET SPACER WITH QUAD SEAL
Part #8263
Harley-Davidson's first use of the five-speed transmission was on the 1980 FLT touring bike. Those motorcycles used an enclosed chain final drive. If transmission oil leaked past the sprocket spacer, it was not a problem because it ended up inside the chain case.
To eliminate this potential problem, all Sputhe 8000 series transmissions, 8000B and 8500B 5-speed transmission kits come with our sprocket spacer.
The spacer incorporates three distinct improvements over the original Harley-Davidson part number 33334-79
Our sprocket spacer is machined from 303 Stainless steel, so that it cannot rust
The O.D. is precision ground for maximum sealing effectiveness and minimum seal wear
Sputhe has machined a bevel in the spacer and installed a Quad Seal (Sputhe Part #8264) between the main bearing and the spacer.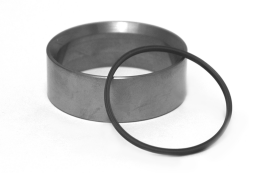 This spacer can be installed on any early style genuine Sputhe or Sputhe imitation, five in a four transmission as well as 1982 through 1985 FXR's.
Speedometer Sensor Plug
Polishes billet aluminum plug replaces the electronic sensor on all Big Twin transmission cases 1994 to present. Supplied with O-ring.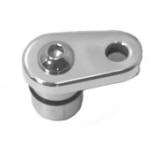 Order By Phone Or Email
Tel: +1 (530) 268-0887

PO BOX 2553
Grass Valley CA 95945
Sputhe name, design and related marks are trademarks of Sputhe.com
Sputhe.com ©1997-2019. All Rights Reserved.